VOX, centre de l'image contemporaine
Jonathan Monk. Exhibit Model Three
2017.11.16 — 2018.01.27
Les vues d'expositions occupent un rôle de plus en plus important depuis que les muséologues les font figurer dans les expositions. Si au départ cette documentation était placée sous vitrine, suivant un protocole documentaire introduit par la muséologie, elle a peu à peu été disposée sur des cimaises, acquérant parfois le statut d'œuvres d'art, pour enfin atteindre un format monumental et ainsi encourager l'expérience immersive de l'exposition documentée. Bien que son importance soit maintenant établie, notamment en ce qui concerne l'histoire des expositions, bien qu'elle ait aussi été mise à contribution pour contextualiser des œuvres et des expositions passées, en revanche on n'a peu étudié jusqu'à présent ses usages par les artistes. De fait, entre leurs mains, cette documentation fait davantage que d'actualiser un passé : elle introduit une manière nouvelle de pratiquer l'exposition.
Jonathan Monk réalise pour l'occasion une exposition documentaire : les salles sont ainsi recouvertes d'images monumentales recelant des vues d'expositions diverses, présentées à des années d'intervalle dans des contextes à chaque fois différents. Y sont documentées de nombreuses œuvres — montrées dans des vues rapprochées ou des plans d'ensemble, des perspectives frontales ou obliques, en couleur comme en noir et blanc — lesquelles offrent une expérience spatiale pour le moins insolite, à la fois labyrinthique et vertigineuse. Alors que cette intervention photographique évoque d'emblée l'idée d'un livre monumental dont les pages se déplieraient à l'échelle de la galerie, la déambulation dans l'espace suggère plutôt une expérience cinématographique. Tout se passe en effet comme si des plans inattendus étaient intercalés dans le déroulement logique d'un plan-séquence, révélant dans un mouvement continu des expositions réalisées par Jonathan Monk depuis les années 1990.
Suite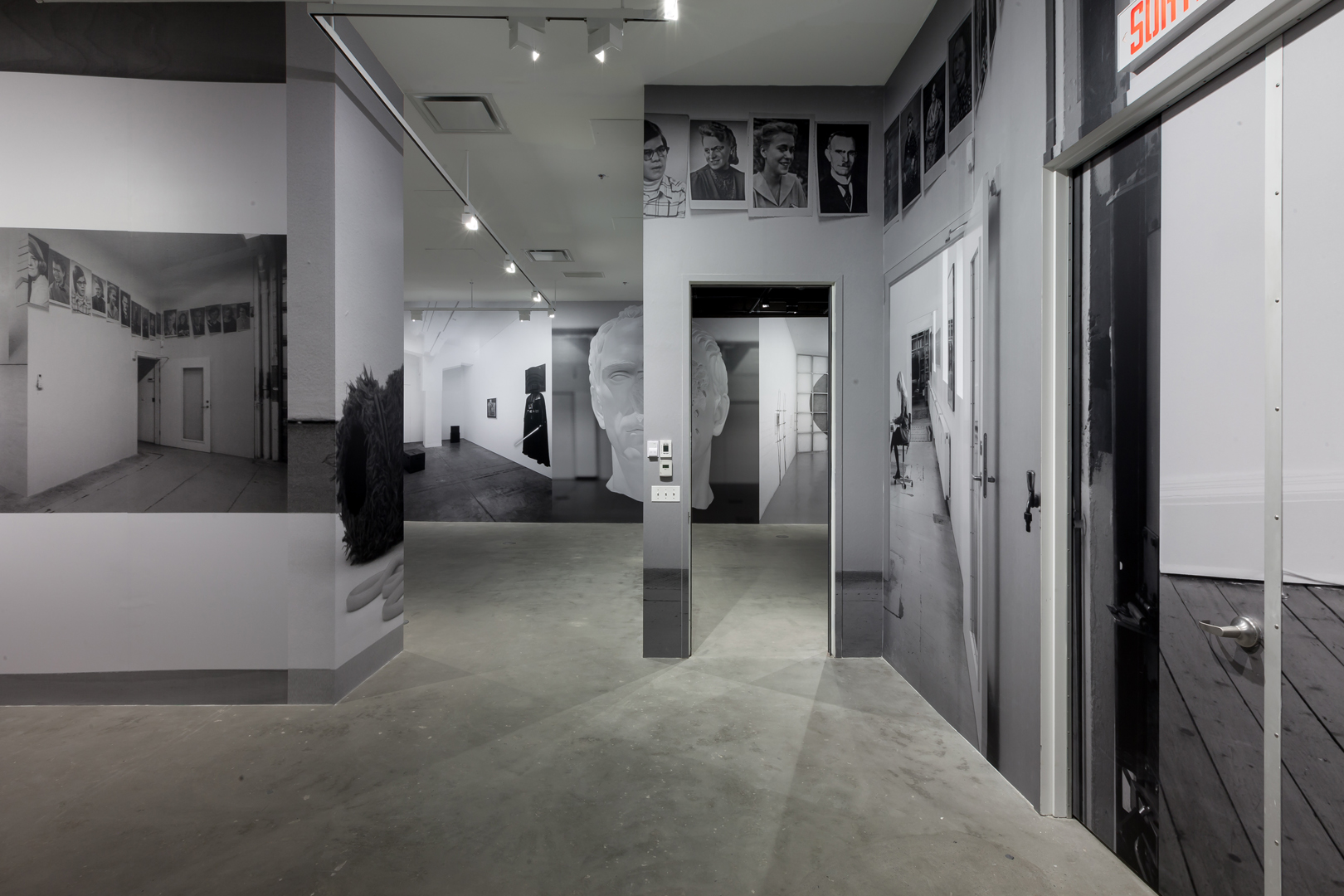 Exhibition views have taken on an increasingly important role since museum specialists began featuring them in exhibitions. Originally placed under glass, following a documentary protocol introduced via museology, this form of documentation was gradually displayed on walls, occasionally ascribed the status of art work, eventually attaining a monumental format and, as such, encouraging immersive experiences of documented exhibitions. Though its importance is now well established, especially with regard to the history of exhibitions, and though it has also been employed for the contextualization of past works and exhibitions, its use by artists has been little studied until now. For, in the hands of an artist, this documentation does more than actualize a past event: it ushers in a new way of practicing exhibition-based art.
Jonathan Monk has mounted for the occasion a documentary exhibition: the rooms are covered in monumental images presenting diverse exhibition views that span several years, in contexts that differ each time. They document many works—shown in close-up or wider views, from straight-on or oblique perspectives, in both colour and black & white—that provide an experience of the space that is unusual, to say the least: at once labyrinthine and dizzying. While this photographic action might at first suggest the idea of a monumental book with its pages unfolding at the scale of the gallery, walking through the space instead elicits a cinematographic experience. Everything proceeds as if unexpected views were intercut into the logical progression of a sequence-shot, revealing in one continuous movement the exhibitions created by Monk since the 1990s.
More